What is the Gospel of Jesus Christ?
There is a lot of good news in the Bible, and there are many uplifting and influential stories to tell of Jesus Christ. Jesus had sound moral lessons, was a great help to those in need, was a prophet, a teacher… But if somebody were to ask, "What is the gospel of Jesus Christ?", what would be the appropriate answer? Or better yet, what essential elements must be included in one's answer for it to be considered "good news"? The answer to the question, "What is the gospel of Jesus Christ?" is something that should be on the mouth and in the heart of every born-again believer. It is central to salvation. Without the essential elements of the gospel of Jesus Christ all is hopeless, or in the words of Paul, "We are of all men the most pitiable." (1 Corinthians 15:19).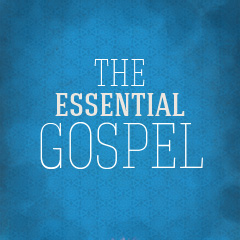 Without further to-do, one of the most concise descriptions of the gospel of Jesus Christ is 1 Corinthians 15:3-4.
[1Co 15:3-4 NKJV] 3 For I delivered to you first of all that which I also received: that Christ died for our sins according to the Scriptures, 4 and that He was buried, and that He rose again the third day according to the Scriptures,
Three elements from this passage (which are expounded on elsewhere in scripture) that are absolutely essential to salvation are
Jesus Christ died for our sins
Jesus Christ rose again and is alive forever more
It was was the Christ (Messiah), the anointed Son of God, who died for our sins according to Old Testament scripture
Are there other important elements to the Gospel? Of course. Some are:
His resurrection was witnessed by many
When he ascended he gave gifts unto men (Eph 4)
Jesus lived a sinless life
Yet the first three points is where all our hope lies. Every doctrine, every gift, every work, every song, is in light of and because of the death, burial and resurrection of God's anointed Messiah.
A good exercise is to ask another believer, "What is the gospel of Jesus Christ?". The answers may be painted differently, some may involve personal testimonies, the creation or the Old Testament prophets. But unless the answer encapsulates Jesus' death and resurrection it is not the gospel message. I was personally challenged by this question. The answer did not roll off my tongue like it should. The gospel of Jesus Christ must be "near to us", in our mouths and in our hearts.
[Rom 10:8-10 NKJV] 8 But what does it say? "The word is near you, in your mouth and in your heart" (that is, the word of faith which we preach): 9 that if you confess with your mouth the Lord Jesus and believe in your heart that God has raised Him from the dead, you will be saved. 10 For with the heart one believes unto righteousness, and with the mouth confession is made unto salvation.
Why are the three elements essential?
Pt 1. Christ died for our sins.
[1Co 15:3 NKJV] 3 For I delivered to you first of all that which I also received: that Christ died for our sins according to the Scriptures,
Jesus came to earth to save sinners:
[1Ti 1:15 NKJV] 15 This [is] a faithful saying and worthy of all acceptance, that Christ Jesus came into the world to save sinners, of whom I am chief.
We are all sinners:
[Rom 3:23 NKJV] 23 for all have sinned and fall short of the glory of God,
The wages (what we are owed, that which is due us) of sin is death:
[Rom 6:23 NKJV] 23 For the wages of sin [is] death, but the gift of God [is] eternal life in Christ Jesus our Lord.
Before Jesus, followers of God offered the blood of animals to temporarily atone for their sins. Again, the wages of sin is death. Life must be given in exchange for sin:
[Heb 9:22 NKJV] 22 And according to the law almost all things are purified with blood, and without shedding of blood there is no remission.
The shed blood of animals (or even other men) would not be sufficient to cover sinful mankind. After the fall our flesh is now sinful in nature and we will sin again after each offering. Christ came as a perfect, eternal sacrifice.
[Heb 9:11-15 NKJV] 11 But Christ came [as] High Priest of the good things to come, with the greater and more perfect tabernacle not made with hands, that is, not of this creation. 12 Not with the blood of goats and calves, but with His own blood He entered the Most Holy Place once for all, having obtained eternal redemption. 13 For if the blood of bulls and goats and the ashes of a heifer, sprinkling the unclean, sanctifies for the purifying of the flesh, 14 how much more shall the blood of Christ, who through the eternal Spirit offered Himself without spot to God, cleanse your conscience from dead works to serve the living God? 15 And for this reason He is the Mediator of the new covenant, by means of death, for the redemption of the transgressions under the first covenant, that those who are called may receive the promise of the eternal inheritance.
It was Jesus who had no sin and died for ours:
[Rom 4:25 NKJV] 25 who was delivered up because of our offenses, and was raised because of our justification.
Sin is contrary to who and what God is. The legal sentence for our sin was death. God is Holy. God cannot lie. Legally death must be paid for our sin. God is just and He will require what is due. A loving God will punish and destroy the thing that comes between Himself and the ones He loves (us).  God extended grace in that he sent his own Son to pay our debt. This is very important to understand. God did not undo or throw away the contract of sin and death we were due. He redirected it towards his innocent and sinless Son. Jesus absorbed the wrath of God. We are not just forgiven, we are justified to stand legally before God and be free of the sentence of death!
When we realize the full extent of what Jesus did in his death, we realize our salvation is only and entirely by the grace of God. Therefore it is a gift. And it was done entirely out of love, the love of the Holy, all-powerful creator God of the heavens and earth.
Now, the term justification really has to do with the resurrection of Jesus Christ. Christ died for our sins (offenses, trespasses), and was raised for our justification.
Pt 2. Christ rose from the dead.
Our core text in 1 Corinthians 15 goes on to answer why this is essential:
[1Co 15:12-23 NKJV] 12 Now if Christ is preached that He has been raised from the dead, how do some among you say that there is no resurrection of the dead? 13 But if there is no resurrection of the dead, then Christ is not risen. 14 And if Christ is not risen, then our preaching [is] empty and your faith [is] also empty. 15 Yes, and we are found false witnesses of God, because we have testified of God that He raised up Christ, whom He did not raise up–if in fact the dead do not rise. 16 For if [the] dead do not rise, then Christ is not risen. 17 And if Christ is not risen, your faith [is] futile; you are still in your sins! 18 Then also those who have fallen asleep in Christ have perished. 19 If in this life only we have hope in Christ, we are of all men the most pitiable. 20 But now Christ is risen from the dead, [and] has become the firstfruits of those who have fallen asleep. 21 For since by man [came] death, by Man also [came] the resurrection of the dead. 22 For as in Adam all die, even so in Christ all shall be made alive. 23 But each one in his own order: Christ the firstfruits, afterward those [who are] Christ's at His coming.
If Christ Jesus is not alive, our faith is in vain. Jesus continues forever. We have justification before God because Jesus is alive today interceding on our behalf.
If I do something wrong and illegal towards someone, that person can forgive me, but I'm still legally guilty under the law. To be forgiven implies a wrong doing (we must have something to be forgiven of), justification implies no wrong-doing (being guiltless). We receive both forgiveness and justification through Jesus Christ. God not only forgave our sins, but made us free from condemnation.
[Rom 3:23-27 NKJV] 23 for all have sinned and fall short of the glory of God, 24 being justified freely by His grace through the redemption that is in Christ Jesus, 25 whom God set forth [as] a propitiation by His blood, through faith, to demonstrate His righteousness, because in His forbearance God had passed over the sins that were previously committed, 26 to demonstrate at the present time His righteousness, that He might be just and the justifier of the one who has faith in Jesus. 27 Where [is] boasting then? It is excluded. By what law? Of works? No, but by the law of faith.
[Heb 7:22-27 NKJV] 22 by so much more Jesus has become a surety of a better covenant. 23 Also there were many priests, because they were prevented by death from continuing. 24 But He, because He continues forever, has an unchangeable priesthood. 25 Therefore He is also able to save to the uttermost those who come to God through Him, since He always lives to make intercession for them. 26 For such a High Priest was fitting for us, [who is] holy, harmless, undefiled, separate from sinners, and has become higher than the heavens; 27 who does not need daily, as those high priests, to offer up sacrifices, first for His own sins and then for the people's, for this He did once for all when He offered up Himself.
Christ lives forever to make intercession for us.
[Heb 7:25 NKJV] 25 Therefore He is also able to save to the uttermost those who come to God through Him, since He always lives to make intercession for them.
[Rom 6:9 NKJV] 9 knowing that Christ, having been raised from the dead, dies no more. Death no longer has dominion over Him.
[Rev 1:18 NKJV] 18 "I [am] He who lives, and was dead, and behold, I am alive forevermore. Amen. And I have the keys of Hades and of Death.
[1Ti 2:5 NKJV] 5 For [there is] one God and one Mediator between God and men, [the] Man Christ Jesus,
Note that our text in 1 Corinthians 15 it says that Christ has become the firstfruits. Christ was the first among men to resurrect unto eternal life in a glorified state. One day we will resurrect in the same way.
The resurrection is important because it not only made Christ free from the dominion of death, but those who follow him by faith.
[Rom 6:8-9 NKJV] 8 Now if we died with Christ, we believe that we shall also live with Him, 9 knowing that Christ, having been raised from the dead, dies no more. Death no longer has dominion over Him.
This next scripture will set up the third point. The resurrection proved Christ was who He said He was, the Son of God.
[Rom 1:4 NKJV] 4 [and] declared [to be] the Son of God with power according to the Spirit of holiness, by the resurrection from the dead.
Pt 3. Jesus was the Christ (Messiah), the anointed Son of God.
Scripture makes it clear that it is essential to believe that Christ is who He said He was:
Jesus wasn't just a man.
[Jhn 8:23-24 NKJV] 23 And He said to them, "You are from beneath; I am from above. You are of this world; I am not of this world. 24 "Therefore I said to you that you will die in your sins; for if you do not believe that I am [He], you will die in your sins."
He is the Son of God, the "I Am", the eternal Word. He was not afraid to be worshipped as God:
[Jhn 20:28 NKJV] 28 And Thomas answered and said to Him, "My Lord and my God!"
[Col 2:9 NKJV] 9 For in Him [Christ] dwells all the fullness of the Godhead bodily;
God took on the form of a man through a virgin birth. Jesus Christ was not just a body that the Spirit of God temporarily rested upon. He was conceived of the Holy Spirit (Matt 1:20). Therefore He was fully man and fully God.
[Jhn 3:16 NKJV] 16 "For God so loved the world that He gave His only begotten Son, that whoever believes in Him should not perish but have everlasting life.
[1Jo 2:22 NKJV] 22 Who is a liar but he who denies that Jesus is the Christ? He is antichrist who denies the Father and the Son.
The humanity of Jesus Christ through the virgin birth as also essential to acknowledge:
[1Jo 4:3 NKJV] 3 and every spirit that does not confess that Jesus Christ has come in the flesh is not of God. And this is the [spirit] of the Antichrist, which you have heard was coming, and is now already in the world.
There are those who are appalled at the thought of God becoming something as unclean as human. But according to the above scripture, Jesus' humanity must be acknowledged right next to his deity.
Conclusion
There are countless other scriptures that speak on the deity of Christ, His death and the resurrection. One can explain the gospel almost entirely from the Old Testament scriptures (as Paul referenced in 1 Corinthians 15), one can study Jesus as the Passover lamb, Hebrews goes into great depth of how Christ was the ultimate and final sacrifice, Romans speaks on how we are justified by faith. Yet the gospel message itself remains simple and is built around these three points, 1) death of Christ 2) resurrection of Christ 3) Jesus was/is the Christ, the Son of God. When we examine the disciples' teachings in Acts, we can see the essential gospel being the subject of every message:
[Act 17:1-3 NKJV] 1 Now when they had passed through Amphipolis and Apollonia, they came to Thessalonica, where there was a synagogue of the Jews. 2 Then Paul, as his custom was, went in to them, and for three Sabbaths reasoned with them from the Scriptures, 3 explaining and demonstrating that the Christ had to suffer and rise again from the dead, and [saying], "This Jesus whom I preach to you is the Christ."
[Act 26:22-23 NKJV] 22 "Therefore, having obtained help from God, to this day I stand, witnessing both to small and great, saying no other things than those which the prophets and Moses said would come– 23 "that the Christ would suffer, that He would be the first to rise from the dead, and would proclaim light to the [Jewish] people and to the Gentiles."
[Act 4:33 NKJV] 33 And with great power the apostles gave witness to the resurrection of the Lord Jesus. And great grace was upon them all.
[Act 2:22-27 NKJV] 22 "Men of Israel, hear these words: Jesus of Nazareth, a Man attested by God to you by miracles, wonders, and signs which God did through Him in your midst, as you yourselves also know– 23 "Him, being delivered by the determined purpose and foreknowledge of God, you have taken by lawless hands, have crucified, and put to death; 24 "whom God raised up, having loosed the pains of death, because it was not possible that He should be held by it. 25 "For David says concerning Him: 'I foresaw the LORD always before my face, For He is at my right hand, that I may not be shaken. 26 Therefore my heart rejoiced, and my tongue was glad; Moreover my flesh also will rest in hope. 27 For You will not leave my soul in Hades, Nor will You allow Your Holy One to see corruption.
[Act 24:20-21 NKJV] 20 "Or else let those who are [here] themselves say if they found any wrongdoing in me while I stood before the council, 21 "unless [it is] for this one statement which I cried out, standing among them, 'Concerning the resurrection of the dead I am being judged by you this day.' "
[Act 8:35-37 NKJV] 35 Then Philip opened his mouth, and beginning at this Scripture, preached Jesus to him. 36 Now as they went down the road, they came to some water. And the eunuch said, "See, [here is] water. What hinders me from being baptized?" 37 Then Philip said, "If you believe with all your heart, you may." And he answered and said, "I believe that Jesus Christ is the Son of God."
These essential elements of the gospel are what was preached and is what must continue to be preached. After hearing the gospel, people who believed would repent and be baptized. But it was only after hearing and believing the gospel. The gospel, the power of the resurrection, this is what people must understand. While the essential gospel may seem foolish to some, or offensive to others, perhaps too simple (not enough work involved) for many, this essential gospel is what must be believed upon with childlike faith. It's after accepting the gospel that Christians grow up into Christ. The danger arises when people meet Christianity without meeting Christ. Entire lives can be built around good morals, proper values and religious rituals, yet the essential gospel is never taught (or often just assumed) and therefore never received.
Let us preach the gospel unashamedly.