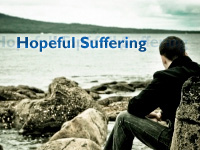 This is a study on how to suffer well. This may seem a tad odd at first. Typically in life we strive to avoid suffering. I can't remember the last time I saw a book in the self-motivational section of the bookstore entitled "How To Be Good At Suffering". For me, this study has been life changing. I hope it can be of some value to you as well.
Key points covered:
What we should fear and not fear as Christians.
Righteous suffering vs wasteful suffering.
Hope in suffering.
Why we should be good stewards of suffering.
Key Scripture: 1 Peter 3:14-16
14But and if ye suffer for righteousness' sake, happy [are ye]: and be not afraid of their terror, neither be troubled;
We should be happy when we suffer for righteousness sake. We should not fear those who would inflict suffering. We should not fear their threats and intimidation. This is what I like to call one of those "easier said then done" scriptures. Let's try to understand this better by breaking down some things we should fear as Christians and some things we should not fear.
What should we fear?
Being a cast away.
1 Cor 9:26-27  I therefore so run, not as uncertainly; so fight I, not as one that beateth the air: But I keep under my body, and bring it into subjection: lest that by any means, when I have preached to others, I myself should be a castaway.
A fighter who beats the air, or strikes without focus or calculated moves will waste his energy, and eventually lose the fight. Paul runs with a certainty.
We fear him that can destroy soul and body in hell.
Matt: 10:28 And fear not them which kill the body, but are not able to kill the soul: but rather fear him which is able to destroy both soul and body in hell.
Bottom line. We fear separation from God. There are many things we should strive to avoid, (sinning, offending little ones, etc), but in the big picture, God is telling us to fear for our souls. We don't fear sin so much as the effects/results of sin.
What should we not fear?
Prison, blasphemy, false accusations, death.
Rev 2:10 Fear none of those things which thou shalt suffer: behold, the devil shall cast some of you into prison, that ye may be tried; and ye shall have tribulation ten days: be thou faithful unto death, and I will give thee a crown of life.
Those that can destroy the body here on earth.
Matt: 10:28 And fear not them which kill the body, but are not able to kill the soul: but rather fear him which is able to destroy both soul and body in hell.
Bottom line: We should not fear fleshly attacks or verbal attacks.
We fear different things than the world. We are not of this world just as Christ was not of this world. A question I had to ask myself when studying this scripture, is
Why do I allow myself to suffer the same way as the world?
We fear and value spiritual things as opposed to fleshly things. The suffering of a child of God, while often the same on the surface as everyone else, should have a different effect on our lives.
So we are going to suffer as Christians, OK. But how do we know if we are suffering for righteousness sake or just suffering?
Here's an example of suffering righteously:
Matt 5:11-13 Blessed are ye, when [men] shall revile you, and persecute [you], and shall say all manner of evil against you falsely, for my sake. Rejoice, and be exceeding glad: for great [is] your reward in heaven: for so persecuted they the prophets which were before you. 13Ye are the salt of the earth: but if the salt have lost his savour, wherewith shall it be salted? it is thenceforth good for nothing, but to be cast out, and to be trodden under foot of men.
Some consider verse 13 the start of a separate thought, but I'd like to take it all together in context. Being trodden under the feet of men is still suffering, but it has to be for Christ's sake. We can't let our suffering become ineffective/wasteful by our attitudes. Low sodium is great if you're watching your diet. We shouldn't be low sodium Christians.
But HOW DO WE KNOW our suffering has a purpose? How do we know if we are suffering for righteousness sake and not because of ourselves.  There is no single blanket answer for this. I ended up coming to the fruit of the Spirit.
The Fruit of the Spirit.
Gal 5:22-23 But the fruit of the Spirit is love, joy, peace, longsuffering, gentleness, goodness, faith, Meekness, temperance: against such there is no law.
This list starts with the greatest – love – and ends with self control (temperance). Self Control? Simply standing still and not sinning or cursing/denying God is indeed spiritual. Having the testimony of not sinning in the face of suffering is a fruit. It is something that is manifest for others to see. Even when our suffering seems like it has nothing to to with God, it should still be about righteousness. Whether it's an unexpected home repair we don't have the money for, somebody vandalizing our car, losing a wallet, a sickness that is hindering us from doing our "ministry", members of our family suffering, being gossiped about,  or being falsely  accused of something we didn't do – all these are opportunities to exercise the fruit of the Spirit.
When we are suffering, simply exercising the fruit of the Spirit in the face of our suffering can be the difference between righteous suffering and wasteful suffering. People are always watching us. Peace in the face of turmoil can be seen, peace in the midst of peace is difficult to see. Joy in the face of sorrow stands out, joy in the midst of joy can be overlooked. Gentleness in midst of hostility and threatening is noticable, gentleness amidst gentleness seems absolutely normal.
Remember what we read earlier, we fear and respect the spiritual things. This is why we will stand out in the midst of the fleshly circumstances that cause everyone else to suffer. Do we suffer from fleshly (worldly) things? Yes. But we must suffer differently as Christians, for it is in the face of fleshly suffering that we have an opportunity to be spiritual.
…for it is in the face of fleshly suffering that we have an opportunity to be spiritual.
Let's continue in 1 Peter:
15But sanctify the Lord God in your hearts: and [be] ready always to [give] an answer to every man that asketh you a reason of the hope that is in you with meekness and fear:
Hope
The modern idea of hope is kind of a wish-washy one. We use it for desiring after something, or even expecting it, but there is often plenty of room for doubt and the expectation that we won't get it. If we were certain we were going to get it, we would use a different word than "hope", such as "expect" or "know".
"Hope" in Scripture is used when referring to strong and confident expectation. Hope in the Bible implies two things: (1) invisibility, and (2) something in the future. It deals with things we can't see,  haven't received or both. If we can see something we want it. We want things in the flesh. We hope for the spiritual things. Rom 8:24-25 For we are saved by hope: but hope that is seen is not hope: for what a man seeth, why doth he yet hope for? But if we hope for that we see not, [then] do we with patience wait for [it].
When we suffer, do people see the hope in us?
Let's finish up our passage in 1 Peter:
16Having a good conscience; that, whereas they speak evil of you, as of evildoers, they may be ashamed that falsely accuse your good conversation in Christ.
How do we have a good conscience when we are suffering?
Eastern religions, self-help speakers and books, they say the same thing; that we need to look within ourselves for healing and peace. But Jesus says we are broken, and we need to get fixed by drawing closer to him (Mark 2:17). Suffering should move us out of ourselves, and into Jesus. When we are weak it is an opportunity for God to show Himself strong!
12 Cor 12:9 And he said unto me, My grace is sufficient for thee: for my strength is made perfect in weakness. Most gladly therefore will I rather glory in my infirmities, that the power of Christ may rest upon me.
We must be good stewards of suffering. Everything we have is God's: House, car, spouse, children, job, even suffering. God gave us the privilege to suffer for His Name. Our suffering should not be selfish, but selfless. We should never use suffering as an excuse to sin, or to put a hold on our ministry. Suffering doesn't mean we should stop doing ministry, it sometimes just means our ministry temporarily takes on a form we did not expect. This is a hard saying, and as was stated before, "easier said than done". But as Christians, we shouldn't allow ourselves to waste God's suffering. This is a form of selfishness.
Our suffering should not be selfish, but selfless.
You can minister to people if they know you've gone through similar things. Look for the fruit. No matter how useless or pointless your current suffering seems, find the spiritual fruit in it. Christ learned from suffering:
Heb 5:8-9 Though he were a Son, yet learned he obedience by the things which he suffered; And being made perfect, he became the author of eternal salvation unto all them that obey him;
I don't believe it says anywhere in the Bible that we should seek out suffering. I certainly don't. But I believe if and when we truly suffer for righteousness sake, it is a gift from God. Are we worthy enough to suffer for Jesus' Name? Don't waste the precious honor to suffer for Christ! He doesn't choose just anybody. If we learn how to make all suffering glorify God, and rejoice when we suffer, it can be life changing.
I'd like to close with how Peter chose to close his epistle:
1 Peter 5:10-11 But the God of all grace, who hath called us unto his eternal glory by Christ Jesus, after that ye have suffered a while, make you perfect, stablish, strengthen, settle you.  To him be glory and dominion for ever and ever. Amen.